Home
 > 
Ultrasonic Flow Meter
 > 
Flow Watch
Flow Watch
Introduction

Picture

Specification

Download

Installation Video
Name:
Flow Watch
Model:F5
General Introduction:
F5 is very unique in its structural design. It uses a circular magnetic steel to achieve automatic connection during installation.
It takes only 2-3 minutes to complete the whole process from installation to measurement. It also adopts the current popular OLED display, which makes it easy to read in low light conditions.
F5 is widely used in the production process for flow measurement andmonitoring. The application of the product continuously and effectively controls the flow of the fluid, so as to improve the yield of the product and even save the input of the personnel, bringing benefits to the production enterprise.
Features:
Clamp on type, No need to cut the pipe or do any other changes.
No professional product knowledge required, installation and measurement can be done based on the guide.
No moving parts or pressure changes involved, installation can be done without stop provide.
F5 can meet different pipe requirements: stainless steel pipe, carbon steel pipe, copper pipe, plastic pipe(PVC, PVDF, PPR, PPH, HDPE, etc.).
F5 also satisfies different clean fluid measurements: various acids, alcohols, chemical solvents,alcohol, beverage water, Coca-Cola water, etc.
Weight:
Weight
(KG)

F5-φ9.53
F5-φ12.7
F5-φ15
F5-φ20
F5-φ25
F5-φ32
F5-φ40
F5-φ50
F5-φ63
F5-φ75
F5-φ90
0.91
0.90
0.90
0.84
0.84
0.82
0.88
0.98
1.43
1.52
1.95
Piping specification:
| | | | | | | | | | | | |
| --- | --- | --- | --- | --- | --- | --- | --- | --- | --- | --- | --- |
| Model | F5-φ9.53 | F5-φ12.7 | F5-φ15 | F5-φ20 | F5-φ25 | F5-φ32 | F5-φ40 | F5-φ50 | F5-φ63 | F5-φ75 | F5-φ90 |
| Outer diameter | φ9.53 | φ12.7 | φ15 | φ20 | φ25 | φ32 | φ40 | φ50 | φ63 | φ75 | φ90 |
| Inner diameter | 8mm | -- | 10mm | 15mm | 20mm | 25mm | 32mm | 40mm | 50mm | 65mm | 80mm |
| Nominal name | DN8 | -- | DN10 | DN15 | DN20 | DN25 | DN32 | DN40 | DN50 | DN65 | DN80 |
Dimensions:
Model

A

(mm)

B

(mm)

C

(mm)

D(mm)
min
min
F5-φ9.53
25
10
58
1.5/φ9.53
6/φ14.03
F5-φ12.7
25
10
58
1/φ12.7
6/φ17.7
F5-φ15
25
10
58
1/φ12.7
6/φ17.7
F5-φ20
25
10
58
1/φ16.5
7.5/φ23
F5-φ25
25
15
58
1/φ25
4/φ28
F5-φ32
28.5
18.5
58
1/φ32
4/φ35
F5-φ40
29.5
24
68
1/φ38
9/φ45
F5-φ50
36
27
78
1/φ48
7/φ54
F5-φ63
41
32
91
1.5/φ58
8.5/φ64
F5-φ75
46.5
40
105
1/φ72
7/φ78
F5-φ90
51.5
43
119
1/φ80
13/φ92
Diagram:

Transmitter: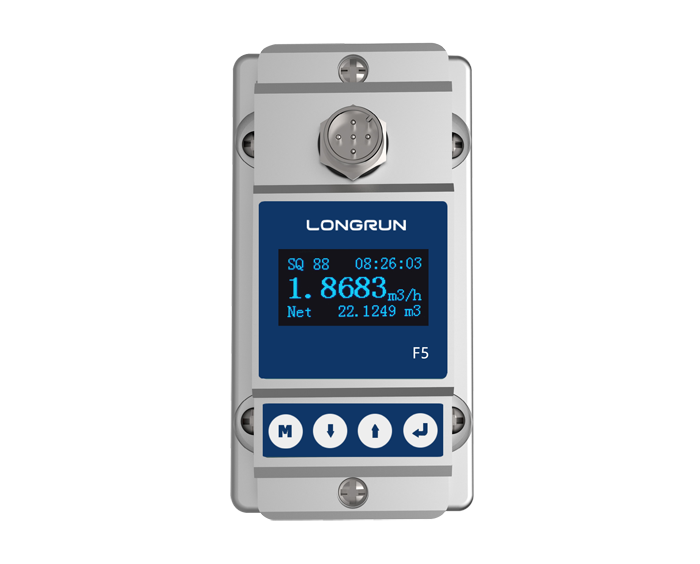 Side View:


Main Parts
: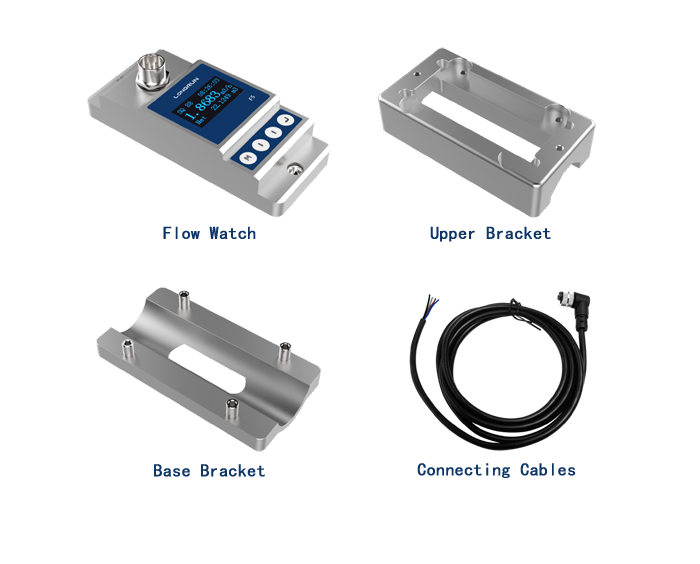 Installation diagram: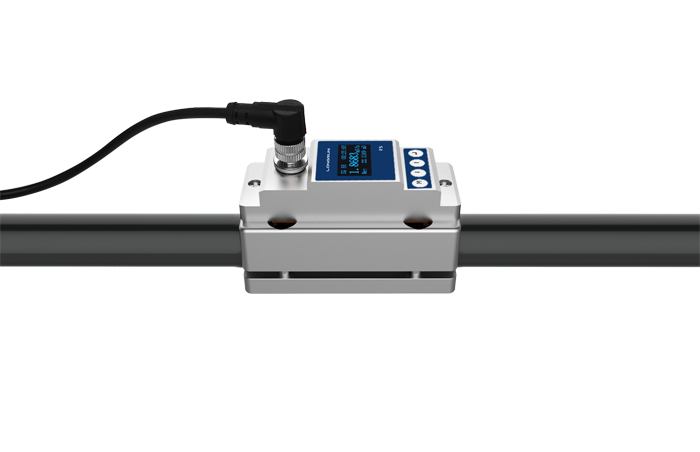 OEM Services: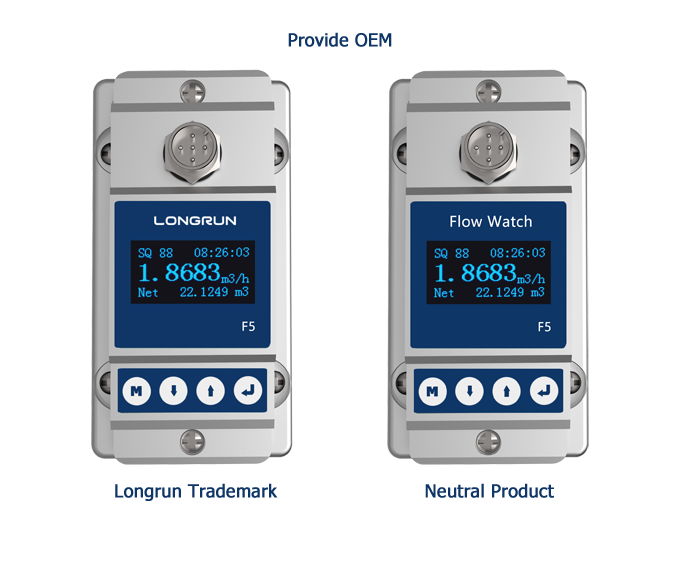 Product
Flow Watch
Model
F5
Flow range
0.1m/s~5.0m/s
Accuracy
±2.0%
Repeatability
0.8%
Pipe size
φ9.53-φ90,11 specifications in total
Data storage
Daily, monthly, and Annual. Flow Totalizer
Analog output
4~20mA, Maximum load: 600Ω
Alarm output
OCT, Upper and lower limit alarm function (optional)
Communication
RS485, support Modbus communication protocol
Power supply
24VDC
Cable length
1.8m
Keypad
Four light touch buttons
Screen
OLED 128*64 display screen
Units
Metric and imperial units are available, Cubic Meters(m3), Liters(L),

USA Gallons(GAL)/hour, /min, Default unit setting: m3/h

Totalizer
Six bit digit
Piper material
Stainless steel pipe, carbon steel pipe, copper pipe, plastic pipe
Case material
Aluminum alloy
Environment temp
0℃~50℃
Medium temp
0℃~50℃
Environment humidity
0-95% relative humidity, without condensation
IP Grade
IP54