Home
 > 
Ultrasonic Flow Meter
 > 
Split-insertion-type Ultrasonic Flow Meter
Split-insertion-type Ultrasonic Flow Meter
Introduction

Picture

Specification

Download

Installation Video
Name:Split-insertion-type Ultrasonic Flow Meter
Model:LRF-2000SC
General Introduction:
LRF-2000S is one of the best-selling flow meters. It enjoys high popularity because of its economical price and reliable function. Installation is quite easy and operation is convenient.




Features:


High Accuracy measuring
Linearity: better than 0.5%, Repeatability: better than 0.2%, Accuracy: better than ±1%
Several types transducer for selection, measuring pipe size from DN32mm to DN6000mm
Chinese or English menu
Different version UFM can support Chinese or English display, easy to operate
High Reliability
Adopt low voltage, multi-pulse technology to improve accuracy, useful life and reliability
Strong Anti-interference
Dual-balance signal differential receiver/driver circuit to avoid interference of converter, TV tower, high voltage line etc.
Powerful Recording Function
Automatically record the following data: 1. The totalizer data of the last 512 days/128 months/5 years 2. The time and corresponding flow meter of the last 64 times of power on and off events 3. The working status of the last 32 days
Optional transducer :
Types
Picture
Spec.
Model
Measurement Range
Temperature
Dimension
Insertion
Standard
TC-1
DN80~DN6000
-30~160℃
190×80×55mm
Lengthen
TC-2
DN80~DN6000
-30~160℃
335×80×55mm
Optional Main unit:
According to different installation condition,there are three models separated ultrasonic flowmeter for selection:
Wall-mount
Wall-mount
Wall-mount

Wall mounted LRF-2000S1
Power supply:DC8~36V or AC85-264V
Wall mounted LRF-2000S2
Power supply:DC8~36V or AC85-264V
Wall mounted LRF-2000S3

Power supply:DC8~36V or AC85-264V
Wall-mount
Explosion-proof
Panel-mount
Wall mounted LRF-2000S4

Power supply:DC8~36V or AC85-264V

Explosin-proof LRF-2000SD
Power supply:DC 8~36V or AC85~264V
Panel mounted LRF-2000U
Power supply:DC 8~36V or AC85-264V
Transmitter: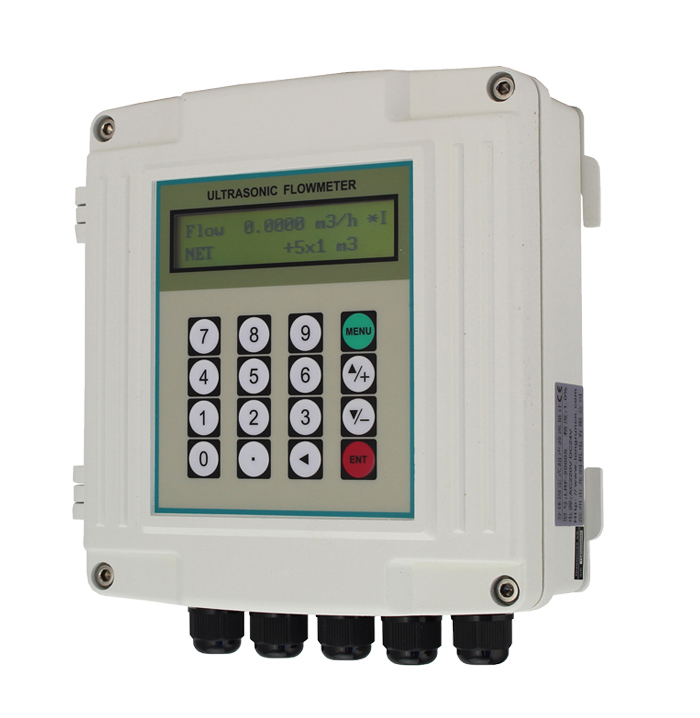 The physical details of the plan: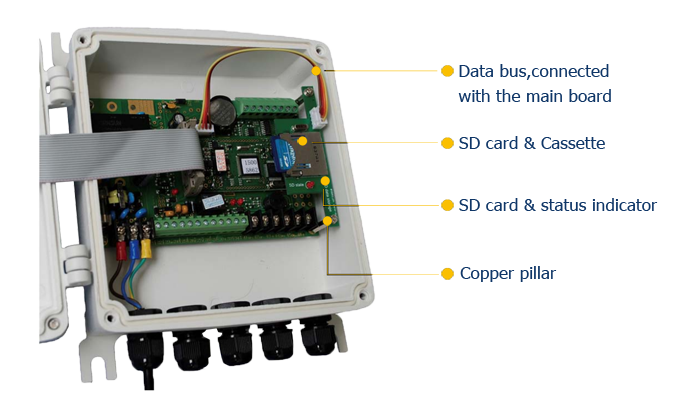 Installation diagram: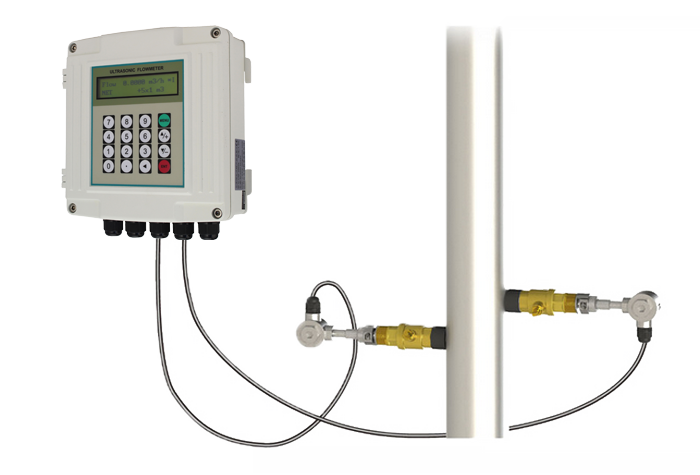 Item
Performance and Parameter
Convertor
Principle
transit-time ultrasonic flowmeter
Accuracy
Flow: over 1%-2%(battery-powered supply over ±2% ),Heat: over ±2%,Repeatability: over 0.2%
Display
2×20 character LCD with backlight, support the language of Chinese, English and Italy Convertor dimension:170*180*56cm
Operation
Support 16 key light touch keyboard and the Simulation keyboard software
Signal Output
1 way 4~ 20mA output, electric resistance 0~ 1K,accuracy0. 1%
1 way OCT pulse output( Pulse width 6 ~ 1 0 0 0 ms,default is 2 0 0 ms)
1 way Relay output
Signal Input
3 way 4~ 20mA input, accuracy 0. 1%,acquisition signal such as temperature, press and liquid level
Connect the temperature transducer Pt100, can finish the heat/energy measurement
Data interface
Insulate RS485 serial interface, upgrade the flow meter software by computer, support the MODBUS, METER-BUS etc.
Other Function
Automatically remember the previous flow/energy data of 512 days, 128 months and 10 years
Automatically remember the previous flow/energy data of 512 days working condition and check it
Automatically remember the previous 32 times power on/off time and flow rate
Special Cable
Twisted-pair cable, generally, the length under 50 meters; Select the RS485 communication. The transmission distance can over 1000m.
Pipe Condition
Pipe Material
Steel, Stainless steel, Cast iron, Copper, Cement pipe, PVC, Aluminum, Glass steel product, liner is allowed.
Pipe Diameter
32mm---6000mm
Straight length pipe
Transducer installation should be satisfied: upstream10D, downstream 5D, 30D from the pump.
Measuring Medium
Type of Liquid
Water (hot water, chilled water, city water, sea water, waste water, etc.); Sewage with small particle content; Oil (crude oil, lubricating oil, diesel oil, fuel oil, etc.); Chemicals (alcohol, acids, etc.); Plant effluent; Beverage, liquid food; Ultra-pure liquids; Solvents and other liquids
Temperature
Standard Transducer: -30--90℃; High-temperature transducer: -30--160℃
Turbidity
No more than 10000ppm and less bubble
Flow rate
0--±12 m/s
Working Environment
Temperature
Main Unit: -20--60℃
Flow transducer: -40--160℃;
Temperature transducer: according to the customer's demands.
Humidity
Main Unit: 85% RH; Flow Transducer: Ip67
Power Supply
DC 24V or AC 85-264V
Power Consumption
1.5W